Some objects cannot be processed with a regular section. That is why we have developed our Space Warp Tool for you. With it, you can unfold polygonal, cylindrical, or curved objects.
In the tutorials below we explain in detail how to use the Space Warp module to unfold objects.
SPACE WARP MODULE – AN OVERVIEW
Before you use Space Warp for the first time, we would first like to give you an overview of what this module has in store for you.
With the Polygonal Section function you can, for example, display all the irregular surfaces of a facade in one go as a 2D orthophoto. The result is a planar orthophoto in which you can carry out surface measurements very quickly. This avoids the need to create several individual sections.
With the polygonal section, you can also create sections in other sections. We will show you how to use this functionality and more in the following tutorial.
With the "Curved Section" function you can unfold irregularly curved objects directly from your point cloud and analyze deviations. As a result, you get true-to-scale 2D orthophotos in which you can easily measure areas, distances, and heights of curved structures.
The cylindrical section is particularly well suited to display, for example, a tower or sewer access as a 2D orthophoto. The results can be further used for surface inspection. For example, the stones of a tower can be inspected. The entire surface of the tower can thus be measured much more quickly and efficiently without you having to create a large number of individual sections.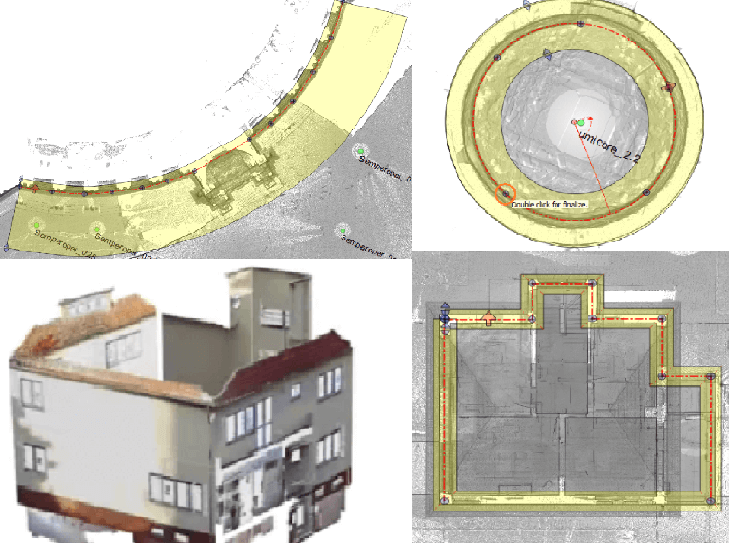 SPACE WARP OPTIONS & PARAMETERS
In this tutorial, we will take a closer look at the parameters of the Space Warp sections in the Job Editor. You can change these in the settings menu for all future Space Warp jobs or individually for each section created in the Job Editor.
If you use the Space Warp module, PointCab Origins automatically creates a PDF file with the corresponding documentation. Find out where to find it and which additional results PointCab Origins provides you with.