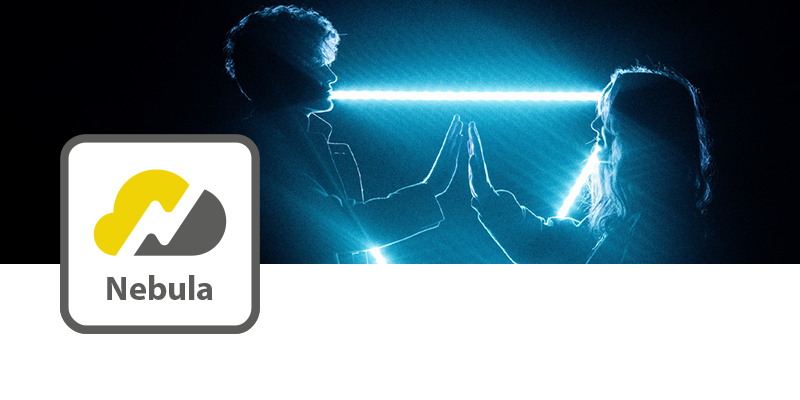 PointCab Nebula is your perfect cloud solution for all point clouds.
Host your point cloud projects safely with PointCab & Viakom and forget those troublesome hard drives.
Easy access from all around the world, or just out of the comfort of your home office.
Float on cloud 9 with PointCab Nebula – your cloud-based solution for all point cloud data!
Share, edit and securely store point cloud projects in the cloud – perfectly tailored to your needs.
The PointCab Nebula Cloud solution consists of two components: Viakom's Nexcloud and the Nebula Plugin. Together, they offer you the ultimate all-in-one solution for managing your point clouds.
NEXTCLOUD: A SOLID FOUNDATION
Nextcloud offers all the benefits you may expect from a collaborative cloud-based platform. The core function is the storage, sharing, and exchange of different types of data such as documents, spreadsheets, and images. Of course, it's up to you which files are shared with whom and for how long. However, the functionalities of the Nebula Nexcloud go far beyond that. It features contact management, a shared calendar, and other useful tools for everyday work. Since Viakom is a German-based company, the data is stored and protected according to EU GDPR standards.

NEBULA PLUGIN: THE PERFECT SOLUTION FOR POINT CLOUDS
The Nebula Plugin is built upon the Nextcloud. It combines all the functionalities mentioned above with additional tools tailored to handling point cloud data in the cloud. It is able to visualize point cloud projects online in the browser. The recipient of the data does not have to download the data to use it. Floor plans and sections, panoramic images, and a 3D view of the point cloud can be inspected online. In addition, the Plugin allows simple measurements such as 3D points and distances to be taken in the browser as well. 
POINTCAB NEBULA HOSTING: AS FLEXIBLE AS YOU ARE
Need more storage space? No problem!
Upgrade your storage space at any time, with just a few clicks, at a reasonable price.
Your perfect entry-level package. 
The basic package comes with 500 GB of storage.
No lack of storage space in sight! Easily expand your cloud storage with flexible hosting by PointCab & Viakom.
Unfortunately, it is not possible for us to create a full trial version of Nebula for you. Nevertheless, there are several ways for you to test the Nebula Cloud.
Order PointCab Nebula regularly from our store. We grant you a 30-day special right of cancellation. If you are not satisfied with the Nebula Cloud, you will get money back – guaranteed.
2. REQUEST A PERSONAL DEMO
Our support engineers are happy to personally show you how you can utilize the power of the Nebula Cloud for your business. Of course, without any obligation and free of charge!
3. TAKE A LOOK AT THE WEB VIEWER
The web viewer allows you to share your projects via a link or to integrate them into your website as shown here. Test the functions the web viewer has to offer in the project below.