EASY POINT CLOUD MODELING IN BRICSCAD
Point clouds in BricsCAD? Easy as can be with our new 4Brics plugin.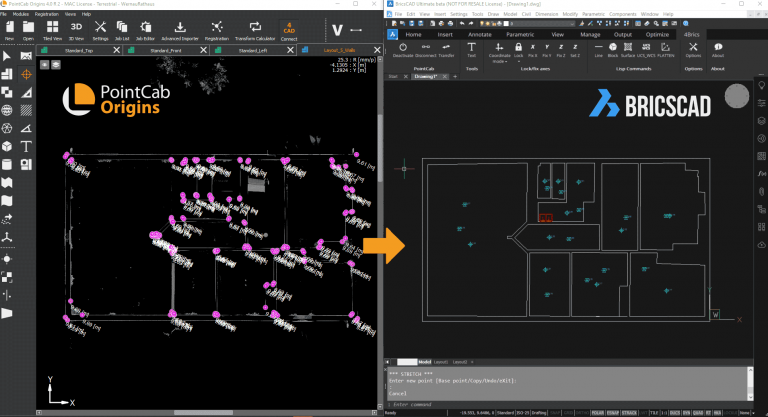 PointCab 4Brics - Why a BricsCAD point cloud plugin?
As you may know, we already developed point cloud plugins for Revit and Archicad. Now, we are happy to announce that we have also developed a plugin that will simplify the modeling of point clouds in BricsCAD. The decision to develop a BricsCAD plugin was an easy one. For months, more and more customers approached us and asked for us to develop a BricsCAD solution. Those who know our team know that we always try to implement customer requests as quickly as possible and try to respond to all requests. So it's not surprising that we got to work right after the first requests came in.

How was the plugin developed?
We are developers and point cloud professionals. We are not BricsCAD experts and we openly admit to that. This is the reason why, when developing our BricsCAD plugin, we did what we always do in such cases – consult the expertise of our customers. Therefore we spent months studying the BricsCAD software and the workflow of our BricsCAD users. Special mention must be made here of Sebastian Zell, who has been massively involved in all stages of development, from conception to beta testing. The result is a plugin that perfectly matches the workflow of our BricsCAD customers and the architecture of the BricsCAD software.
What can the plugin do and how are point clouds modeled in BricsCAD with it?
Our 4Brics plugin helps you to transfer 3D information from Origins to BricsCAD in the correct position and in real-time. This way you don't have to export the entire point cloud or individual orthophotos first and then import them into BricsCAD. As already mentioned, we have adapted our plugin to the architecture and structure of the BricsCAD software. That is why there is the function to fix axes. In principle, single or multiple axes can be fixed, depending on what is needed at the moment.  For example, the x and y-axis can be fixed if heights are to be determined. Measurements are generally made with the 3D point tool in Origins. No matter whether lines, surfaces, or individual objects from your own templates are to be transferred – simply click on the desired element in Origins and it will be transferred to BricsCAD in the correct position. As usual, the 3D point tool can be used in the standard views, layouts & sections, or panoramic views. No matter which view you use, the information from the point cloud is always transferred correctly to BricsCAD. In addition to the transfer of 3D point cloud data, we have also implemented other functions that make your work in BricsCAD easier. For example, our multilines tool allows you to create several individual lines one after the other without interruption. Preparing your data for other CAD software is also done with just a few clicks. For example, you can transfer the data from your user coordinate system to the world coordinate system or flatten the heights. This way the data can also be read into CAD software like Revit or ArchiCAD. 
If you want to learn more, take a look at our overview video or visit our online shop.